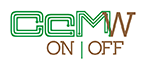 Wifi device CcM-W ON/OFF
The CcM-W ON/OFF are embedded in the Principal devices and they provide WiFi connectivity and other extra functionalities to the Principal CcM home display, thus increasing the possibilities and versatility of solutions provided to our clients. Their objective is to cover practically all the energy-related needs of a business both in terms of analysis (passively) and in terms of regulation (actively).
Features of the CcM-W ON/OFF
Our devices CcM-W ON/OFF are equipped with:
2 digital inputs or pulse counters (gas and water)

2 outputs to command contactors or reclosers

1 RS-485 output to send requests to other devices (PV inverters)
Configuration of the device Wifi CcM-W ON/OFF
Cloud Mode: Reports directly to the server or URL factory-configured in the firmware,by default to the Energy CcM server. The address may be configured upon specific client request.

FTP Mode: It may be configured via the Energy CcM app, it sends an CSV file to the client FTP server address.

Gateway Mode: Converts the CcM WiFi in a transparent gateway to receive requests from an external device.
Installation of the extra device